Yamada Air-Operated Double Diaphragm Pumps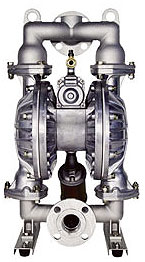 C.R.T. is a certified stocking distributor for Yamada air diaphragm pumps and accessories. We will assist you in choosing the right material of construction for your application. Yamada has designed a pump that has fewer moving parts and requires far less maintenance than the competition's. With the non-lubricated air valve and the shorter stroke design, let us prove to you how Yamada will save you money, not only in the long run, but in the short run, too.
If you give Yamada a try, we'll let you use it for 60 days for FREE. If you decide you don't like the pump, clean it up and send it back - NO CHARGE. If you do decide to keep it, we'll still give you a 20% discount off the list price just for trying it. THE PROOF IS IN THE PUMP. Let us prove it to you. Take advantage of our 60 DAY FREE DEMO. You'll be amazed at what you can spend all the extra money on that we are going to save you.